The Grand Tour of
Lac du Bourget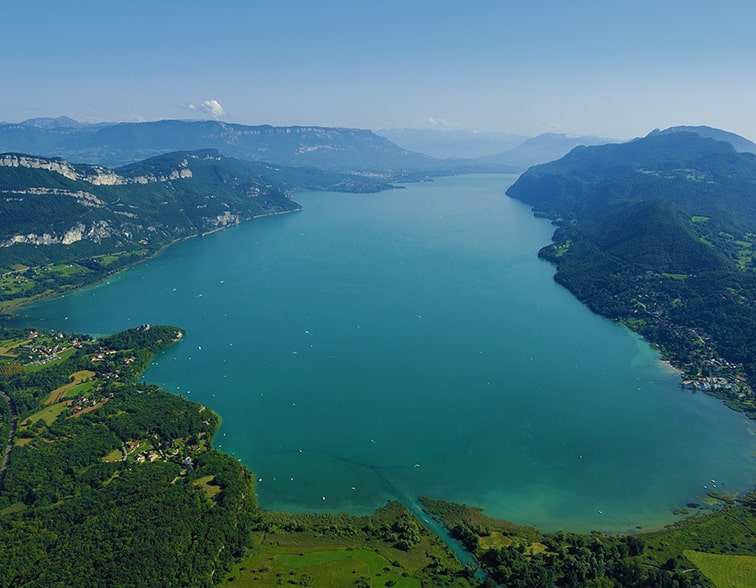 The Great Cruise around Lake Aix-Les-Bains
With family or friends, come and discover the largest glacial lake in France and tour the Lac du Bourget with the Canotiers. We will tell you about its history, especially the remains of its lake cities, dating back 4000 years and classified as a UNESCO World Heritage Site. Without forgetting the more recent history of Hautecombe Abbey, the poet Alphonse de Lamartine or the development of thermalism. We will also make you discover its natural caves, only accessible by boat, and admire its fauna and flora, very protected.
At your own pace, and according to your wishes, you will sail or stop the boat near deserted beaches, creeks with warm and transparent waters, at the foot of a castle or a Savoyard village, near the wild coast, near a pontoon to enjoy an ice cream or a refreshing drink, before setting out again towards the open sea.
Welcome to the Grand Tour du Lac du Bourget!
Visit of the Abbey of Hautecombe
1 to 5 people
470€
6 to 11 people
680€
Aperitif
From 9€/pers: sausages, local products, assortment of vegetables and dips, drinks included (water, fruit juices & sodas).
Taste
From 7€/pers: assortment of pastries and fruit, drinks included (water, fruit juice & soft drinks).
Drinks
From 6€/pers: wines, beers or other alcoholic drinks.
From 4€/pers: fruit juices & soft drinks.
Restaurant Lunch / Evening
Among 15 restaurants truly "feet in the water" with boat access to the pontoon around the Lac du Bourget and the Canal de Savières, we can reserve the table and the menu according to your desires to discover the gastronomy of the lake. Night return by boat for an unforgettable souvenir. The return in the moonlight will seduce you.
Hotel or guest room
If you want to extend your cruise, we have carefully selected for you a dozen accommodations by the water, in hotels or guest rooms, with the possibility of course to bring you back the next day by taxi to your starting point or enjoy, if the heart tells you, of a second day by boat dedicated to relaxation, bathing and discovering the heritage.
Additional hour : +100 € (1 to 5 people) or +150€ (6 to 11 people)

Price includes boat and skipper - Gas not included (price based on Petit Port gas station)
Come with your picnic, drinks and lunch on the boat between two swims or on an intimate beach along the wild coast.